Labor Day Marks The "Back to School" Season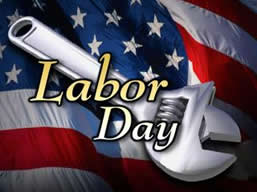 Labor Day is a federal holiday in United States to celebrate the economic and social achievements of workers. It is observed on the first Monday in September. It constitutes a yearly national tribute to the contributions workers have made to the strength, prosperity, and well-being of the country.
Traditionally, Labor Day is celebrated by most Americans as the symbolic end of the summer, especially of the vacation season. This holiday is regarded as a day of rest and parties and US also adopted the tradition of not wearing white after Labour Day to mark the onset of Fall.
The first Labor Day in the United States was celebrated on September 5, 1882 in New York City, in accordance with the plans of the Central Labor Union. In 1884 the first Monday in September was selected as the holiday, as originally proposed, and the Central Labor Union urged similar organizations in other cities to follow the example of New York and celebrate a "workingmen's holiday" on that date. The idea spread with the growth of labour organizations, and in 1885 Labor Day was celebrated in many industrial centres of the country.
It became a federal holiday in 1894, when, following the deaths of a number of workers at the hands of the U.S. military and U.S. Marshals during the Pullman Strike, President Grover Cleveland put reconciliation with the labour movement as a top political priority. Fearing further conflict, legislation making Labor Day a national holiday was rushed through Congress unanimously and signed into law a mere six days after the end of the strike. All 50 U.S. states have made Labor Day a state holiday.
This is the time when the Navy switches from their white uniforms to their Navy blue uniforms   and most of the schools open for the year in the week after Labor Day. Families with school-age children take the holiday as the last chance to travel before the end of summer recess. Teenagers and young adults view it as the last weekend for parties before returning to school. People enjoy the initialization of the college football seasons during this time. As, in U.S. sports, Labor Day marks the beginning of the NFL and college football seasons. NCAA teams usually play their first games the week before Labor Day, with the NFL traditionally playing their first game the Thursday following Labour Day.
Labor Day in United States  is altogether a commemoration to pay tribute to the American Workers as well as welcome festivity for Autumn.