5 Inexpensive Resources To Learn Animation, Game Design And Comic Art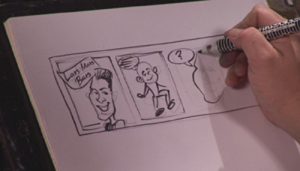 Animation, Computer Game Design and Comic Art are three of the most wonderful expressions of art that speak to the child in all of us. They can tell stories so simple or so rich and complex that they can engage an audience no matter how old or young.
With today's advanced technology, animation, game design, and comic art education is more accessible than ever before. You don't need to spend $60,000 dollars for an arts course to be inspired and educated by the best in the world in order to make something yourself and share with the world.
If you are interested in any of these creative pursuits or would like to encourage someone you know who is interested here are a few mind-blowing resources to inspire and guide creation.
1. Instructional DVDs From Gnomon Workshop
These DVDs have been professionally created by artists who work in the fields of traditional and computer generated art.  So the range of subjects and tutors increases every year. You can learn all about animation, digital painting, storyboarding, game design, character modelling, conceptual art and more from noted contributors that will teach and inspire you to create.
2. Drawn To Life
This book is a compilation of class notes written by Walt Stanchfield and distributed to animators in training at Disney's CALARTS college during a thirty year period. Hands down it is the most inspiring book on not only the technique of animation but an artistic approach to life.  Volume One goes over the essentials and leads into Volume Two which is highly recommended.
3. Imaginative Realism: How To Paint What Doesn't Exist
James Gurney is most famous for his Dinotopia series of books. He has also been contributing to the world of art knowledge regularly on his Blog The Gurney Journey for some years now. This book is a compilation of the best of that Blog and also a few extras. It is a rich book filled with insight on the artistic process of creating worlds and characters that only exist in our minds and bringing them to life, based on the lessons of the masters.
4. Directing the Story: Professional Storytelling & Storyboarding Techniques for Live Action & Animation
Covers the process of putting a story together by a professional film-maker and highly regarded teacher.  A comprehensive "how-to" textbook by one of the most highly regarded teachers in the field.
5. The Art Of… Books
Take your pick. For each major film in animation, Sci-Fi or Fantasy, there is generally a book released called "The Art Of… [insert film name]". Each book is generally light on words and heavy on images. The images are a balance of sketches, paintings and other artworks that the designers of the film created to help the words of the script come to life in images. They are invaluable insight in to the design process. And also once you buy one…they are highly addictive!
This is, of course, just a starting list. You also need life drawing resources and information on how to use the specific tools you choose to create with. But the inspiration and basic artistic background for animation, gaming and comic art all stem from writing and constructing a good story and being able to bring it to visual life with style and these resources will help inspire and guide you towards that goal.
This article was first published in: comicbooksandmore.net