Comic book conference at Rhode Island College
By Peter B. LordJournal Staff Writer
PROVIDENCE — Comic books — once thought to be the scourge of young minds — are now in.
Authors, publishers, professors, graduate students, teachers and artists who packed a conference at Rhode Island College Saturday said comic books are not only OK, they are often respectable, wise and useful for unlocking the creativity and reading abilities of young people and adults. Maybe no one said it better than Nancy Silberkleit, an art teacher who became co-chief executive officer of Archie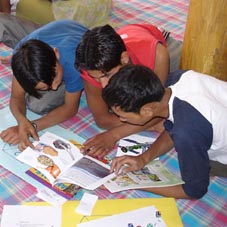 Comics two years ago when her husband died, after running the company for decades.
Silberkleit said she wasn't a comic book person. She was not even much of a reader. When she agreed to step into the leadership role at Archie Comics, she said you could have written a speech bubble over her head with one word, "Yikes!"But after starting comic book fairs in schools and seeing kindergartners reach for comics, Silberkleit says she has now coined a new motto: "Comic books plus children equal reading."
Archie Comics still depicts the foibles of Archie, Veronica and Betty, but now Silberkleit said the company is doing comics on obesity, drunken driving and other issues.
"Comic books got a bad rap decades ago," Silberkleit said in a presentation to about 120 people at the conference. "Today it's different. You go to universities and libraries and they have sections on comic books and graphic novels. They are very complex reading tools."Michael Gianfrancesco, an English teacher at North Providence High School, and Jennifer Cook, an assistant professor in the English Department at Rhode Island College, organized what they called the New England Comic Arts in the Classroom Conference. It went so well, they are already making plans for a sequel.
Cook explained that for about 20 years teachers, librarians, professors and writers have been pushing to turn the comic arts into a legitimate literary form. Comic arts include Web editions, comic books and their bigger cousins, graphic novels. All accompany text with art. Something special is created when you blend images with text, and it affects peoples' brains in different ways, Cook said.
She said the comic arts are particularly useful to reach those she described as "reluctant readers."
Gianfrancesco, a former student of Cook's, uses graphic novels with his high school students — not in place of traditional texts, he adds, but as an extra.
The graphic novel "Maus," about Jews and the Holocaust, helped turn the genre around when it won a Pulitzer Prize in 1992, he said. He would not offer it to "reluctant readers" and he doesn't consider it garbage reading or dumbing down. He uses it with his college prep students.
"It's a visual society," he said. "To ignore that is ignoring an opportunity to reach our students."
Raina Telgemeier, the author of the graphic novel "Smile," told how she first presented pieces of her story about a girl losing her teeth and being taunted, once a week on the Internet. It eventually became a 170-page book that is now very popular.
Gianfrancesco said he uses "Smile" to prepare students for "The Scarlet Letter."
Gina Gagliano, marketing coordinator for First Second Books, said her imprint is publishing about 15 graphic novels a year for all ages. Graphic novels are winning awards, she said. And they are winning the acceptance of teachers and librarians.
Silberkleit said she only recently has been able to talk about reading difficulties that kept her back one year in first grade. She now realizes she had learning issues and she was turned off by reading.
Now that she is an executive at Archie Comics, she said she takes home back issues and reads them every night.
She said she is convinced that if someone handed her a comic when she was young, she would be a much better reader now.
Source – http://www.projo.com/news/content/Comics_in_the_classroom_03-27-11_BTN7FF0_v12.1260606.html