Apple to the Rescue of the Comic Book Industry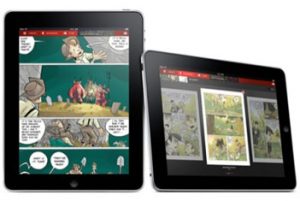 The "Modern Age of Comic", an informal name given to the period in the history of mainstream American comic books that is generally considered to last from the mid-1980s till today. This period marked an overall change in the comic books' industry. The comic book characters in general became darker and more psychologically complex, whereas the creators became better-known and active in changing the industry. Independent comics flourished, and larger publishing houses became more commercialized in this era.
The actual boom in the comic book popularity was achieved in the early 1990s, when mainstream media outlets (newspapers and television) reported on major comic book storyline events. The popularity diminished to a greater extent by mid-90s with the advent of electronic and internet medias. But new "Digital Comic Book Reader", an Apple app that can be utilized on Apple's iPad, iPhone, and iPod Touch, is suppose to bring back the lost glory of comic books. In April, 2010, Marvel, a subsidiary of Disney, in collaboration with Comixology (a developer of comic book reader applications) unveiled this "Digital Comic Book Reader" product. Marvel hopes that by making comics more accessible on new platforms, it will spark the next boom.
Owners of Apple's iPad, iPhone, and iPod Touch products can download a free Marvel Comics application, which enables users to view comic book content on their devices. Comics can be purchased through the iTunes store for $1.99 each, and stored in a virtual library within this application. This app has an additional feature where customers are able to find "brick and mortar" comic stores to purchase these issues. The availability of comics will probably increase in the future due to Marvel's association with Disney (which purchased the company in late 2009).
The comic reader application is easy to use and comes with an animated tutorial. More important, the artwork retains its visual quality in its conversion to a digital format. There are options to read each issue one frame at a time, or page by page. The launch began with approximately 500 issues, with a handful of free comics available for interested customers to test drive the new product.
The bright side of this release is that at $1.99 an issue, it is a more cost-effective medium for readers to follow their favourite titles. In addition, Marvel is able to offer free sample issues to attract new readers to other titles. Marvel is also planning to offer digital releases that coincide with new print issues, making the comics available to customers that lack a physical store in their area.
Another positive aspect of this new technological advance is that Marvel can attract new customers who previously read comics during the aforementioned boom period, but lost interest because of the space needed to store hard copies.
One more concept that may appeal to the mainstream consumer is the adaptation of popular novels to comic book format, including the works of such authors as Stephen King (The Dark Tower Series, The Stand), Peter Straub (The Talisman), Orson Scott Card (Ender's Game, Ender's Shadow) and Jane Austen (Pride and Prejudice).
All told, it is just a matter of time, which will prove whether Apple's family of devices will bring the comic book industry back to the level of popularity achieved during its peak period of 90's. But it is sure to benefit sales in other areas, such as films, toys, and video games that are related to comics.