College and Career Readiness
Creating Educational Comic Books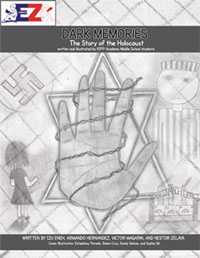 Imagine a lesson plan that would give students the opportunity to learn about history, writing, editing, publishing, art-work, design, and teamwork all at the same time. And one more thing: they have a lot of fun and love the project as well. Impossible? Think again. Last fall, EZ Comics worked with a group of stu-dents at KIPP Academy Middle School as they created a historical comic book on the Holocaust, working together to chronicle the incident's impact, consequences, and lessons for future generations.
For the students, this was an incredible experience they have never had so much fun during a "learning" project. And, best of all, at the end of it they had a finished product a beautiful, bound historical comic book that KIPP classes will be using for generations to come. As Omar Mata, a 7th grade KIPPster said, "I enjoyed this project. It made me see the Holocaust in a way that is interesting to me. Instead of reading a book, I got to draw. I would recommend this project to other students because it's a better and more active way of learning than listening to a teacher talk."
For the teachers, this was the dream lesson plan an opportunity for students to teach themselves, while having fun and learning so much along the way. Throughout this process, the students have developed such an incredible understanding of history, and, perhaps most importantly, they have also made significant progress in the quest to become authors becoming expert researchers, writers, editors, and team builders along the way. Laura Lensgraf, Chair of the English Department at KIPP Academy, lauded the project for "…giving [her] students firsthand knowledge about the intricacies of publishing a small book." Brandy Hebert, the art teacher at KMS who worked with these students, agrees as well, stating "comic book creation requires students to research, organize, and synthesize their information". From an early age we associate comics with enjoyment, adding the academic element is simple and brilliant. Students are set up for success because they know they will enjoy the work."
For the first part of the comic book, 7th grade KIPPsters in English class worked for several months to create a complete script for the Holocaust book. These students spent hours researching different aspects of the Holocaust and then synthesized books and books of information into a thoughtful ten page comic book. The script included detailed text, dialogue, and visual descriptions of the entire book. For the second part of the book, 7th and 8th grade Art students worked to bring each line of the script to life, doing a significant amount of research along the way.
Ultimately, the Holocaust Museum Houston printed over three thousand copies of the final comic book, giving it out to students who attended a special performance of Kaddish, a symphony about survivors of the Holocaust. The comic books will also be spread and sent to other Holocaust museums all over the world. Not only did these students have an opportunity to have a fun and incredible learning experience, but they also had the opportunity to see their work presented to over three thousand of their peers. The comic book will also be available and heavily marketed online on the EZ Comics website, an organization dedicated to spreading historical comic books and helping kids learn from other kids across the globe.
At www.ezcomics.com, EZ Comics has created an online resource where students and teachers from across the globe can create and publish historical comic books. These books will then be freely available for other students and classes to read and learn from. Someday, a kid in Kazakhstan will be able to write a comic book about his country, post it on the website and it can then be read by students in Houston, Texas. As KIPP teachers, you have a unique opportunity to help build this online resource, developing the first batch of comic books that can be invaluable for students to create, and, ultimately, invaluable for other stu-dents to learn from.
My name is Ruchir Shah, and I am a student at Rice University. For more information on how to create a comic book, for a lesson plan, or for anything else, please visit www.ezcomics.com, contact me at ruchir@ezcomics.com, or contact Laura Lensgraf or Brandy Hebert at KIPP Academy Middle School!
To read the original article please click here